ASB prepares for Winter Formal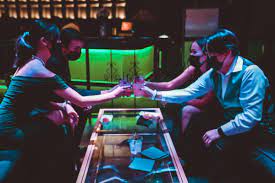 ASB members are preparing for the annual Winter Formal dance, which will take place Jan. 21 from 6-10 p.m. at The Circle OC.  
Preparations for Winter Formal began in November, when dance committee members discussed the possible venues and themes. A month before the event, ticket prices are released and sales begin. Advertisements are also sent out to promote attendance. This year's theme is "Auroras," based on the northern lights, with a greenish-yellow color scheme. 
"We put a lot of effort into organizing the Winter Formal just as we do for any other event. We want to make sure that there wouldn't be any issues that we'd come across and that on the day of the dance, everything will go according to plan," ASB member sophomore Sunny Lau said. 
Compared to the previous year's Winter Formal, the venue this year will be smaller. There is a limit of 650 tickets, with 100 reserved for upperclassmen. The venue will also provide food and drinks for the students participating.
"Other than the [decrease] in the number of tickets sold, I think this year's [Winter Formal] is similar to last year's. Besides the food and special effects, we're trying out a new DJ," Dance Committee member junior Zoey Tran said. "I'm hopeful they will live up to the student body's expectations." 
In addition, the rules for the dance prohibit items such as containers, bottles, drugs and alcohol. Formal attire is expected, including long dresses, button-ups, slacks, ties and suits. Students who do not adhere to these rules will not be allowed to participate in the event. 
"I wish that everyone would follow the rules and avoid any conflicts from occurring so that the whole dance would go smoothly and everyone will have an enjoyable experience," Tran said. "The last thing we'd want is for someone to be sent back home because of a violation of rules."
The final week to purchase tickets will be from Jan. 16 to Jan. 20. Ticket prices for singles will be $60 with an ASB card and $70 without an ASB card. Couples ticket prices will be $105 with ASB and $135 without ASB. 
"I'm excited as to how the dance will go since ASB has put a lot of effort into organizing the event. It's my second year here, and I look forward to the future dances," Lau said.