Hayao Miyazaki exhibit features immersive artwork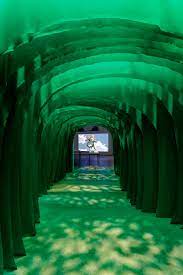 Known for drawing "Ponyo," "Spirited Away," "Kiki's Delivery Service" and many other animations, Academy Award-winning filmmaker Hayao Miyazaki's exhibit in the Academy Museum of Motion Pictures in Los Angeles is a great place to  dive into his artwork. It opened on Sept. 30, 2021 and ends June 5, 2022. 
Walking into Miyazaki's fourth floor exhibit, I was immediately struck by the moving tiles of green kelp projected on the walls and ceiling of the entrance. It made me imagine that I was swimming through the ocean like Ponyo. 
The walls of each room of the exhibit have large projector screens that show clips of Miyazaki's films. Since I have not watched many of his movies, the short clips gave me an idea of which ones I would be interested in. 
I especially enjoyed seeing Miyazaki's original drawings. There were hundreds of his hand-drawn sketches in glass enclosed tables and in frames hanging on the walls. It was amusing to be able to see the process a professional artist goes through to make an animation. For example, his sketches of scenes from "Kiki's Delivery Service" illustrated how Miyazaki changed Kiki's character concept from the first iteration to the final product. 
Also, the museum added many life-size decorations of memorable characters and landscapes from Miyazaki's films. I especially liked the Mother Tree, a fluorescent green tree that took four years to design, inspired by the tree that Totoro lives in. Walking under the tree transported me to the world of Totoro, as if I alongside Satsuki and Mei were crawling through the trunk of the tree to find Totoro.