Retiring Mustangs share their stories: Janet Dutton
After almost four decades of teaching, English teacher Janet Dutton will be retiring to spend more time with her family.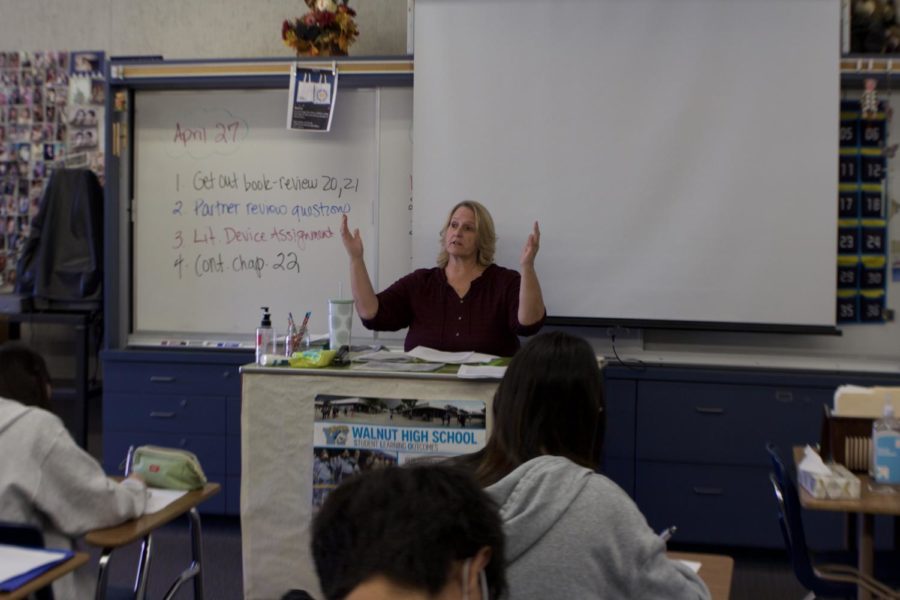 "What does it profit for somebody to gain the world and lose their soul?"
As her teaching days come to a close, Janet Dutton fondly reminisces on the motto that motivated her through those very days. 
Dutton has been working at Walnut for 36 years teaching a variety of English classes. Currently, she teaches Freshman Honors, Freshman College Prep, Sophomore College Prep and Senior Honors. She started her teaching career at Walnut High School and has stayed ever since. However, because of a bad first interview experience, Dutton almost did not consider teaching here.
"Once I got here, I [thought], 'No, I really want to work here.' All the people I met, the people that were on my panel, just felt so right for me. Once I got here, it was awesome. I knew I liked it from the start," Dutton said.
Dutton, like many, struggled during distance learning, separated from her students by a screen.  
"I wasn't the kind of teacher that would just give assignments and then turn off my computer. I never did that because I needed to be with my students." Dutton said. "Last year was hard. I really wanted to quit. Those words probably came out of my mouth every day. My husband would come in and say, 'You can't quit.' But I really wanted to quit."
Dutton was one of the first teachers back on campus after quarantine had ended for summer school. 
"Right away just being with people, it was like magic again," Dutton said. "Even though it was students who were having struggles with school more than other people, it was just fun to talk and laugh and be human again."
Dutton goes out of her way to make conversation and connect with each of her students on a more personal level.
"I feel like if students can connect to their teachers, they're going to respond better to the material. So if I can ask you a question about your sport, and we can make a connection, now all of a sudden you realize that I care about you. Then maybe you'll care about what I say, right? I think that a really key thing to being a teacher is establishing relationships with their students," Dutton said.
For the first five years of her teaching career, Dutton coached volleyball. Prior to this, she had played a year of volleyball in college but stopped once she decided to become a teacher. She coached freshman volleyball at first before becoming the varsity team coach.
"I knew the sport pretty well [and] I was new to coaching, but really liked it. I coached for the first five years of my teaching career and then I wanted to have kids so I took that road instead," Dutton said.
Dutton's parents were also teachers, which translated into Dutton's choice to go to school for teaching and to pursue education as a career.  
"I followed in their footsteps because I got to see the good, the bad and the ugly of teaching. I knew what to expect coming in," Dutton said. "Both of my parents were very big on being connected with people and that was my personality. I'm an extrovert; I really like to talk to people. I loved what they did, and I wanted to do it."
After retiring, Dutton plans to move closer to her family and pursue other passions aside from teaching — which she will still continue to do at a lesser scale at colleges — such as cake decorating and flower arranging.
"This has been 36 years, and my children have all moved away," Dutton said. "I definitely want to be around my family because nobody's here in California anymore. I'm old now, but I don't feel old. It's just the right time."